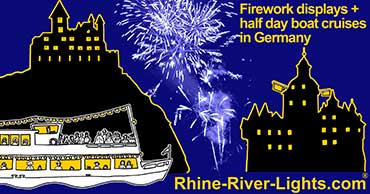 Press text 1 for 2021:
We just want our passengers to have fun!
Rhine-River-Lights boat cruises with music, dance and fireworks.
Romantic boat cruises on the middle Rhine River, including one or two firework displays and on different dates also a visit of a wine festival or a winery festival, offers the organiser Germany-Travel-Net in the summer and autumn of the year in the course of the event serial Rhine River Lights.
"Other than similar organisers, we have strictly limited the number of the boats", says the manager of Germany-Travel-Net Wilhelm Hermann. "Because of that, virtually all guests are in the 'front row' during the fireworks of the Rhine river lights™."
According to the information of Germany-Travel-Net, one or two fireworks are planned for the Rhine-River-Lights boat cruises.
In order to bring success to the Rhine-River-Lights boat cruises, Germany-Travel-Net does not just focus on pyrotechnical spectacles.
The organizer Germany-Travel-Net has timed the boat cruise trips in that way, that the passengers will have the possibility to visit either the wine festivals or the winery festivals in different wine towns on the Middle Rhine River in May/June, August and October.
"All we want is our passengers to have fun!", says Wilhelm Hermann from Germany-Travel-Net, "that is why there is also live music and dance on the Rhine-River-Lights boats.
Tickets can be ordered on the internet at:
www.rhine-river-lights.com
and
www.german-wine-festivals.com
Bus companies from all over Germany offer bus trips with and without overnight stays to the events Rhine-River-Lights. Information and offers under:
www.mittelrhein-lichter.de/busreisen-busgruppen
Contact person: Wilhelm Hermann,
phone +49 (0) 179 / 250 6757
---
Please use one of these online reservation forms to order tickets:
If you want to charter an extra boat for your company outing or if you request group rates for groups from 15 people, please use this group rates online form.
Rhine river lights ™
– all schedule dates 2021 and 2022
Saturday, June 26, 2021
Firework display round boat trip Rhine river lights ™
Red wine festival in Assmannshausen
Saturday, August 27, 2022
Firework display round boat trip Rhine river lights ™
Wine festival summer night in Bacharach
Saturday, October 8, 2022
Firework display round boat trip Rhine river lights ™
Golden wine autumn and Swimming Federweisser vintage festival
Special rates for groups from 15 people
Order brochures posters advertising subsidy
Media texts pictures